This is a cake for the chocolate lover, with just enough of cream and jam to even out the chocolate.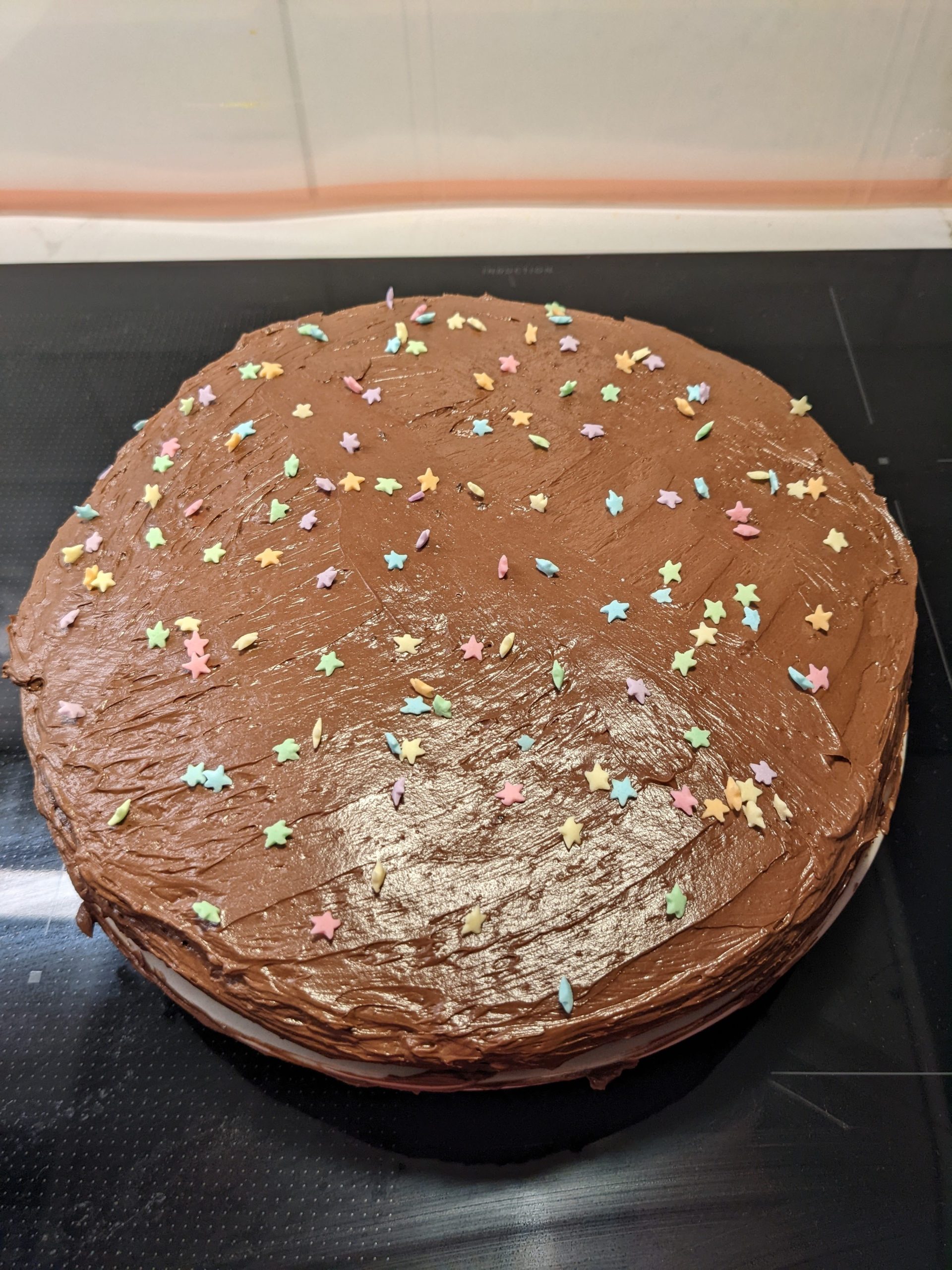 Cake
4 dl wheat flour
4 dl sugar (finely granulated)
1.5 dl cocoa powder
1.5 teaspoon baking powder
1.5 teaspoon bicarbonate
1.5 teaspoon salt
2 teaspoon vanilla powder
2 dl milk
0.75 dl olive oil
2 eggs
1.5 dl boiling water
Filling
200g tempered butter
1.5 dl cocoa powder
4 dl powdered sugar
1 dl milk
2 tsk vanilla sugar
4 dl whipping cream
4 dl custard
3 dl jam
Decorations
sprinkles
Instructions
Mix all dry ingredients in a kitchen helper.
Add the milk, oil and eggs and whisk until mixed.
Boil the water and slowly add it to the batter while mixing.
Pour into a round mould and bake in a pre-heated oven at 175 C for 30 min (circulating air).
Prepare the filling
Let the butter rest in room temperature until soft.
Make the chocolate butter cream by mixing the cocoa powder, butter, sugar, vanilla sugar and milk in a kitchen helper.
Prepare the custard according to manufacturer's instruction.
Whip the cream until firm.
Flip and cut the cool cake into three layers.
On the bottom layer, spread jam and top with custard.
Put the second layer on the custard. Spread jam and top with cream.
Put the third layer on the cream. Spread jam and top with the chocolate butter cream.
Spread the butter cream evenly on the sides.
Decorate with sprinkles.